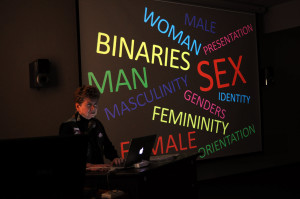 Linda Stein is a well-known artist-activist, lecturing throughout the United States and internationally, including Tuebingen Museum in Germany,  Harvard Project for Asian and International Relations in Beijing,  Elizabeth A. Sackler Center for Feminist Art at the Brooklyn Museum, Penn State University,  Alexandria Museum and  Miho Museum in Kyoto, Japan.
Stein's dynamic, fast-paced lectures present stark truths and funny anecdotes to address issues concerning gender, oppression, bullying, strength, power and justice in contemporary culture. Engaging her audience with video, stills and pop-culture examples, Stein inspires her audience to think critically and to feel the most authentic and empowered self.
Lectures are approximately 30 minutes, followed by a Q&A.
---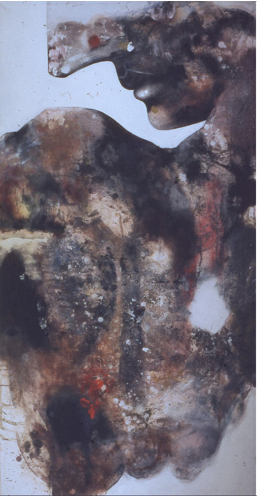 1. Below the Eyes: Sexuality and Averting the Gaze. In rereading my diaries from the 1960s, I am reliving the angst I felt as I confronted my sexuality at a time when the words lesbian and gay were hardly mentioned. There was an enormous amount of stigma attached to the word homosexual, which was listed as a mental illness by the psychiatric association.
My shame then was visceral and intense.
At the time, I was drawing and painting frontal faces. In diary notations, I wrote: Some of these faces I am drawing look back at me with disdain, even disgust. I need to make sure they can't see me. I have to leave the eyes out altogether and begin just below the eyes.
Was I averting the gaze, as we say in today's lingo––the gaze of my own drawings and paintings staring critically back at me? I had to be sure that none of these faces had the means to see me, this me that was so very bad.
I told this story during a 16-minute talk at a webinar for Penn State Lehigh Valley on April 8, 2021. The full-hour webinar includes my 16-minute talk and a Q&A.
---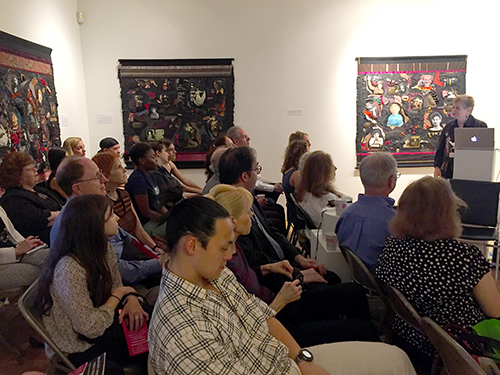 2. Holocaust Heroes, Fierce Females, Tapestries and Sculpture by Linda Stein/How Art is a Catalyst for Gender Justice vs Bullying and Oppression. What defines bravery? What makes a hero? With over 150 moving and still images, Stein takes her audience on a half-hour journey, from persecution to protection, from the bully to the moral exemplar.
---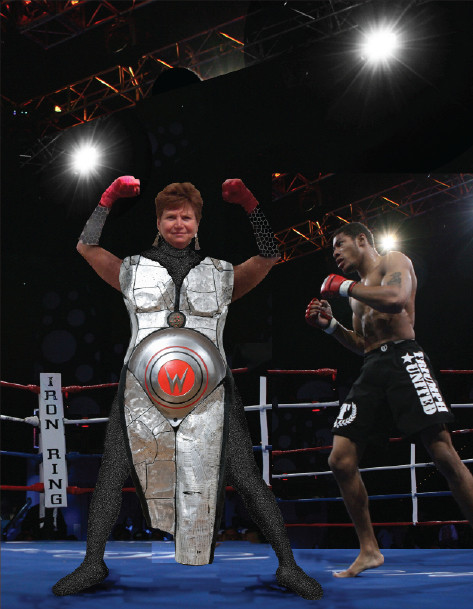 3. The Fluidity of Gender: The Chance To Be Brave, The Courage To Dare OR Slamming Gender Stereotypes, Crash! Boom! Bang!. First performed as a Keynote Address for the National Association of Women Artists on May 20, 2009 (see announcement below), at the National Arts Club in Manhattan. It has since been presented at the Brooklyn Museum and at other museums, galleries and educational institutions throughout the country and abroad.
Stein's tour-de-force lecture includes more than 150 video/still images in a powerful 30-minute presentation, encompassing stark truths and funny anecdotes about masculinity and femininity, as well as bullying and bigotry, extending from the local to the global.
With hilarious video scenes–Tina Fey from 30 Rock beating her boyfriend in tennis; movie clips of Stein throwing out the phony journalist Borat from her studio; macho moments from the popular video game, Grand Theft Auto; moral questions posed by Stein's Wonder Woman video–Stein probes, confronts and inspires her audience personally and professionally to break the molds of gender constructions and constrictions.
---
4. Salander/Blomkvist: Challenging Stereotypes in The Girl with The Dragon Tattoo–and beyond. Around the world, so many of us—men, women and in-between—are fascinated with Steig Larsson's stories of omnipotence and libidinal domination. We feel a frightening excitement, an ambiguous and complex overlapping of strength, aggression, power and sexual energy.
Artist-activist Linda Stein makes a dramatic presentation, both visually and viscerally, of Larsson's two main protagonists, Lisbeth Salander and Mikhail Blomkvist. In a whirlwind of fast-paced references that include Wonder Woman and Lady Gaga, as well as her gender-bending and heroic art, Stein teases, provokes and inspires her audience to risk approaching the intersections of sadism and the verboten emotions that surface.
First performed at the Brooklyn Museum in a panel discussion on October 22, 2011 (see announcement below), Linda Stein condenses the 2 hour Swedish movie The Girl with the Dragon Tattoo into a 17 minute tour de force of gender reversal & scrambling. Q&A to follow.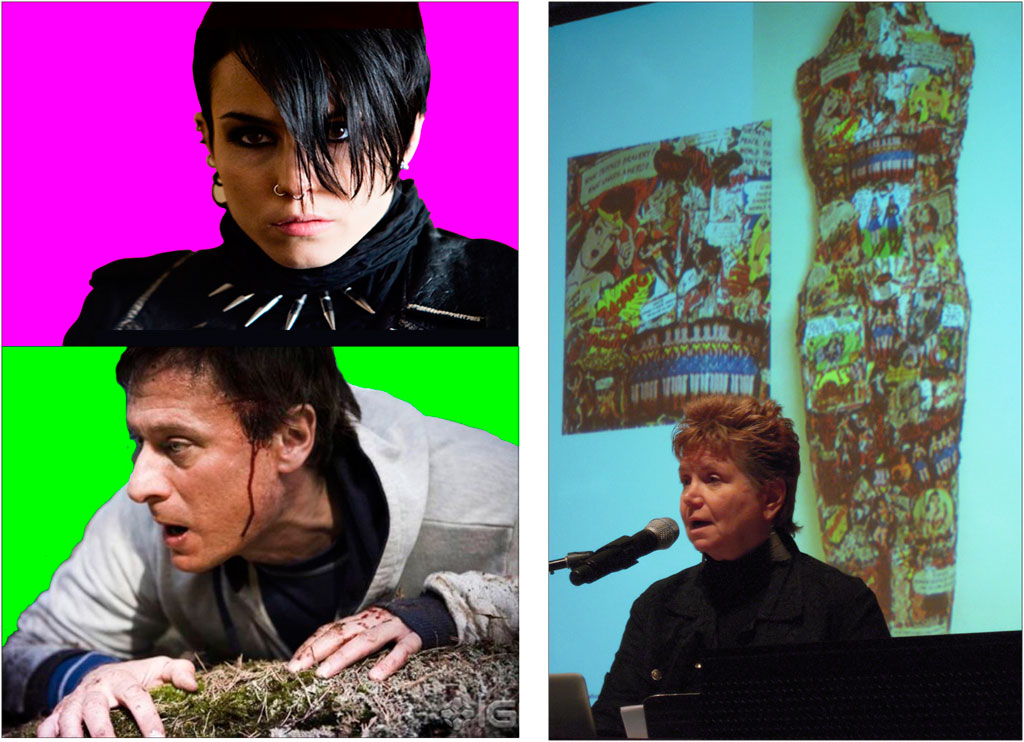 ---
5. Gender Fluidity Shakes Up the Masculinist Art World! First presented on November 12, 2011 at the National Women's Studies Association (NWSA) Conference, Feminist Transformations in Atlanta, Georgia. With humor and historical perspective (did you know that female artists earn 10-30% of what male artists earn from their art?) this empowering cri de coeur is Stein's call for action to upend the imbalance in the art world
---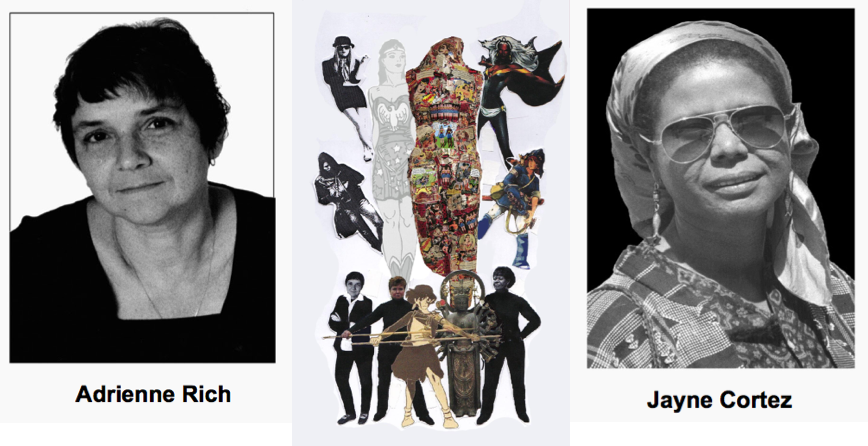 6. Fierce Females and Icons of Protection: A Feminist Artist and Activist Reflects on her Journey through Sculpture and Multi-Media Installations. In this fascinating and fast-paced 25-minute talk, artist Linda Stein discusses how her art and activism serves as a "bridge" between two take-no-prisoners poets who died in 2012: Jayne Cortez and Adrienne Rich. With more than one hundred videos and still images, Linda Stein's lecture was first performed at the CUNY Graduate Center in Manhattan on Feb 17, 2017, and follows the publication of the artist's ten-thousand-word essay included in Jayne Cortez, Adrienne Rich, And The Feminist Superhero: Voice, Vision, Politics And Performance In U.S. Contemporary Women's Poetics published in 2016 by Lexington Books, edited by Laura Hinton with art by Linda Stein. Using her pantheon of pop culture and religious icons from fantasy and reality, Stein shows how her visual/visceral art melds with the poets' powerful words to forcefully address sexual abuse, bullying and bigotry.