BULLY-PROOF VESTS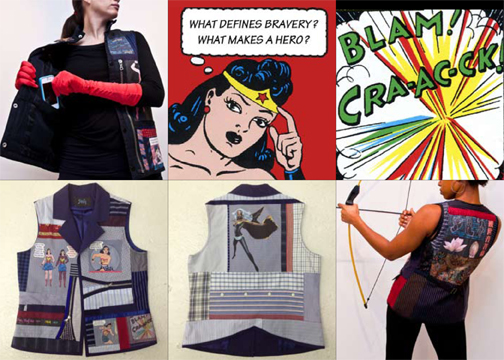 One-of-a-kind, hand-sewn, signed by Linda Stein, numbered and dated.
May be custom-styled and fitted for YOU!
HEROIC
EMPOWERING
FURTHERING THE CAUSE OF GENDER JUSTICE
Price upon request. Waiting List only.
I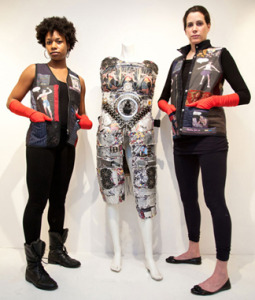 n her latest series, Linda Stein makes a fashion statement with wearable art called Bully-Proof Vests. The vests serve the dual function of both offering symbolic protection/empowerment to the wearer, and encouraging bystanders to stand up against bullying. The vests feature recognizable, cultural icons (i.e. Wonder Women and Lady Gaga) known to  encourage authenticity and acceptance of "otherness."  They contain slogans that bring attention to bullying and oppression, including racism, sexism, ableism and homophobia.
NOTE: 1/3 of the sale of these vests will be donated to Have Art: Will Travel! Inc. (HAWT) a non-profit 501(c)3 corporation, traveling to museums, universities and institutions around the country. With its exhibition/performance/lecture series, The Fluidity of Gender and Holocaust Heroes: Fierce Females, HAWT addresses bullying and harassment on a global and personal scale encouraging Parity, Protection and Peace.
Call us at 212.964.6007 to make an appointment to be custom fitted by our tailor.