I need to rant about the Wonder Woman (WW) costume "makeover" that DC Comics just put out for its 21st century version of this superhero.
In yesterday's NY Times George Gene Gustines gives the impression that this change in wardrobe is a great leap forward for the modern woman. But that's hogwash. It represents more of the same old-boy pandering to the male gaze and fantasy. In the Boston Herald today Lauren Beckham Falcone is more on target: "OK, I get it. It's probably a challenge to save the world when you're going strapless, but a cropped jacket? Biker gloves? Shoulder pads? Boot spurs? That's a whole lot of costume to chase villains in." Also reference the current online articles at Women's Media Center and On The Issues Magazine, as well as my previous WW article for OTI.
I'm really peeved that DC Comics had an opportunity to make WW over as a feminist symbol of strength and justice, and instead kept her as a bullet-breasted male fantasy, more violent and cruel than in her 1940's persona, when she never killed. Using WW in my art as a visceral way to help bring parity and empowerment to women (and men), I want to fight this silly DC Comics makeover on every front I can. I'm so angry and disappointed that neverending sexism prevents us from having even one non-objectified female superhero. I don't know of any. Do you?
Below (click on thumbnails) are some images showing how I use WW in my art.
These ceramic tiles are for commissioned walls with some of my make over ideas on what Wonder Woman would say today:
This sculpture (Wonder Woman 632) is one that Gloria Steinem is donating to Smith College: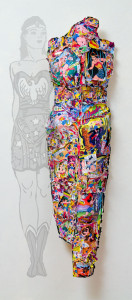 This sculpture shows my Wonder Woman wearable art:
This is what happens at my interactive performance events:
<iframe width="640″ height="480″ src="//www.youtube.com/embed/oEuPWEoVCa0?rel=0″ frameborder="0″ allowfullscreen></iframe>